Hello.
Yes. It's been another one of those days. A wonderful day but various. Very various.
The nice men from Currys woke me up at 6.55am to tell me that they would be with me by 10am which was both kind and inconsiderate. You can see why. Anyway, they couldn't install the damn washing machine until tomorrow anyway. Why I am starting with this? It definitely gets more interesting. Wait til you hear about my gong bath.
Anyway, my morning was pretty average (but my afternoon was amaze - read on please thank you). Although my current workload is actually quite inspiring which is always a good thing. The Docs 360 project is literally brilliant. I've been listening agog (not really agog but I like that word* - more like 'intently') to the interviews that the lovely Rob Alexander** had already recorded with the likes of Michael Norton OBE and the people from Distribber and Distrify and Chargeplay and so on. Check them all out - the sites, not the interviews. Sadly, they are only available to people on the course. And me. See - nice work.
I'm also loving the work I'm doing with and RIBA and dear old Arts Inform - a client for several years now on and off depending on when they need me. This time I am making a film about architecture. It might sound dry but when you think about it:
"architecture is one of the only forms of human endeavor which effects each and every one of us and yet, no one teaches the language of architecture. If we cannot understand how to speak about it, how can we ever hope to improve it for the good of everybody?"
This is a good quote isn't it? I wrote it for the proposal that I made to Arts Inform and sort of pretended that it might be by somebody famous because I hadn't had time to find an actual quote. Catherine Sutton even asked me where it was from. I was very proud and decided that I like making up genius quotes.
I met with RIBA and Arts Inform and Catherine Sutton this very afternoon which was great, but before that something very exciting happened: I got my visa for Congo. I was going to post a photo of it but then I worried that someone could forge my passport or pretend to be me. Is that silly? Or wise? I often ask these two questions of myself and the things I do. Hmmm. Anyway, so now that I've got my jabs and my tickets and my visa and everything, I guess that means that I'm DEFINITELY GOING. Woo! I might take this moment to say: a) Woo! (yes, but I'm excited), b) I can't believe how lucky and privileged I am to be a part of this project and that I actually get to fulfill several of my life long dreams and work with some of the people I most admire and respect... IN AFRICA!, c) thank you very much to Gareth from the Flight Centre who has been generally quite brilliant, d) woo!
Just quickly, isn't it fascinating how parsely just keeps regenerating? I've completely cut this all, three times! Nature. Amaze.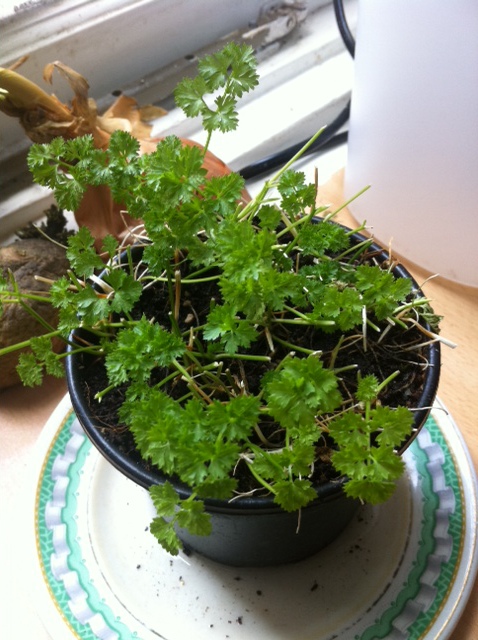 Also, can I just say, I'm well into taking hand-written notes at the moment. I think I'm having an anti-digital backlash. She says as she writes a blog... But don't they look nice?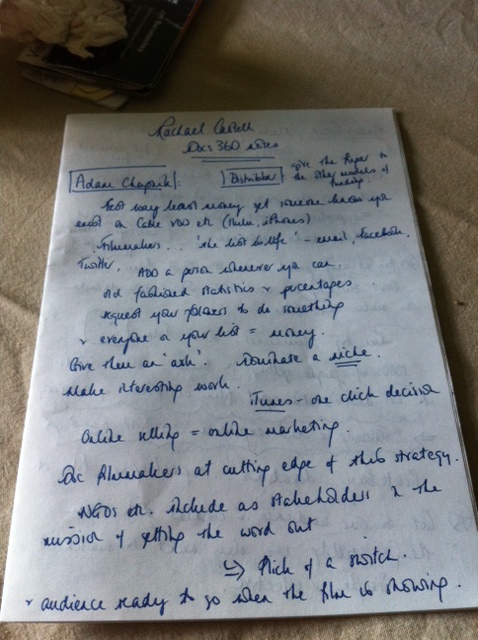 And finally, can I just say a massive thank you to Jasmine Dawson. First of all, anyone who's noticed that I'm wearing more colour these days - that's thanks to Jas. She gets disapproving when I wear all black. Secondly and more importantly, Jasmine gave me a gong bath tonight. Yes, no, it doesn't involve water or armitage shanks. It involves lying comfortably in a serene room, and allowing the amazing amazing multifarious sounds of three gongs played expertly to wash over you. I had outer body experiences, my mind wondered joyfully, I saw strange and beautiful colours, my every atom vibrated. And I absolutely loved it. Again please Jas :)
If you want a gong bath, please talk to Jas: www.beingsound.com / @beingsound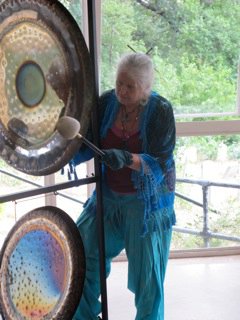 This is my friend Jasmine who gave me my gong bath.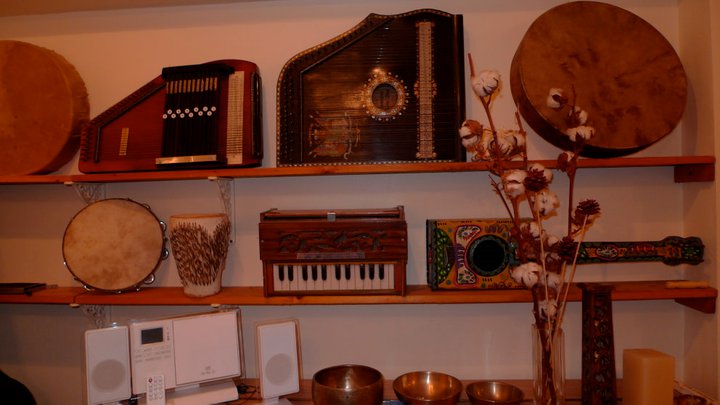 And these are some of the amazing instruments in the room where the gongs are. Jas's shop Being Sound in Leytonstone is like an Aladdin's Cave. It's basically my go-to destination for jewellery, health, gifts, gong baths... :)
Then I came home and did things like more work and write blogs. I decided that to support these endeavours some chocolate was in order. I was working in bed. I carelessly tossed the chocolate package onto the duvet. It rested on the charger for my mac... I ate it with a spoon. Mmmm yum.
Goodnight. x
-------
*I just thought of the word agog as I was writing that sentence above. Who says agog?! Let's revive it. Please be agog at something today. Yes? Thank you.
** Can I just give 'mad props' or some other kind of big up to Rob. I only met him in Cannes and since then he has literally been a total champion. Rob rocks. Please check out his intriguing Bow Project film about the history of the violin.