Today I...
... woke up. Helped Belle pack a bag containing a hand printed hand-made hammock and a sign that offered 'Free Time'. Showered, ate breakfast (you know, morning things) and set off to Paddington Station to do this:
This involved a lot of analysing distances between posts and also negotiation of pavement space. Predicatably, it also engendered a mini argument with an irate estate agent. Barely had we pulled a metre of rope from Belle's lovely red polka dot bag, but he popped his head out of the door of his (empty) office and shouted 'not outside our shop'. 'Oh, sorry, are these your lamposts?' I replied. He got very puffy and explained (agressively) that he was 'trying to sell houses' (obviously, house hunters are massively put off by hammocks). We persisted anyway much to his shagrin. His company is called Gordon and Co. I think he might be Gordon. Please don't go there to buy a house unless you are particularly anti-hammock, in which case, that's the store for you.
After we offered the passers-by of Paddington a rest stop, and had some lovely exchanges, Belle had to leave to go back to Falmouth. She will be back in a week though for the same project, and you will be able to see it (and sample a hammock) here: www.shp.org.uk. I'm sure more details will also be on her website which is here: www.bellebenfield.com
I would just like to say that I am so enormously inspired by Belle and really proud to know her. I admire how her art is so considered and touches on subjects that are so meaningful to me. I am lucky to have a friend like Belle. Lucky old me.
---
After hanging hammocks in Praed Street, I set off for a meeting with Geoff Andrew, programmer of the BFI. We drank coffee, talked blogs and discussed the merits of Lars Von Trier (I am for, Geoff is against). Then it was a beautiful day, so I looked at big poems on the Queen Elizabeth Hall exterior walls and admired this large straw fox: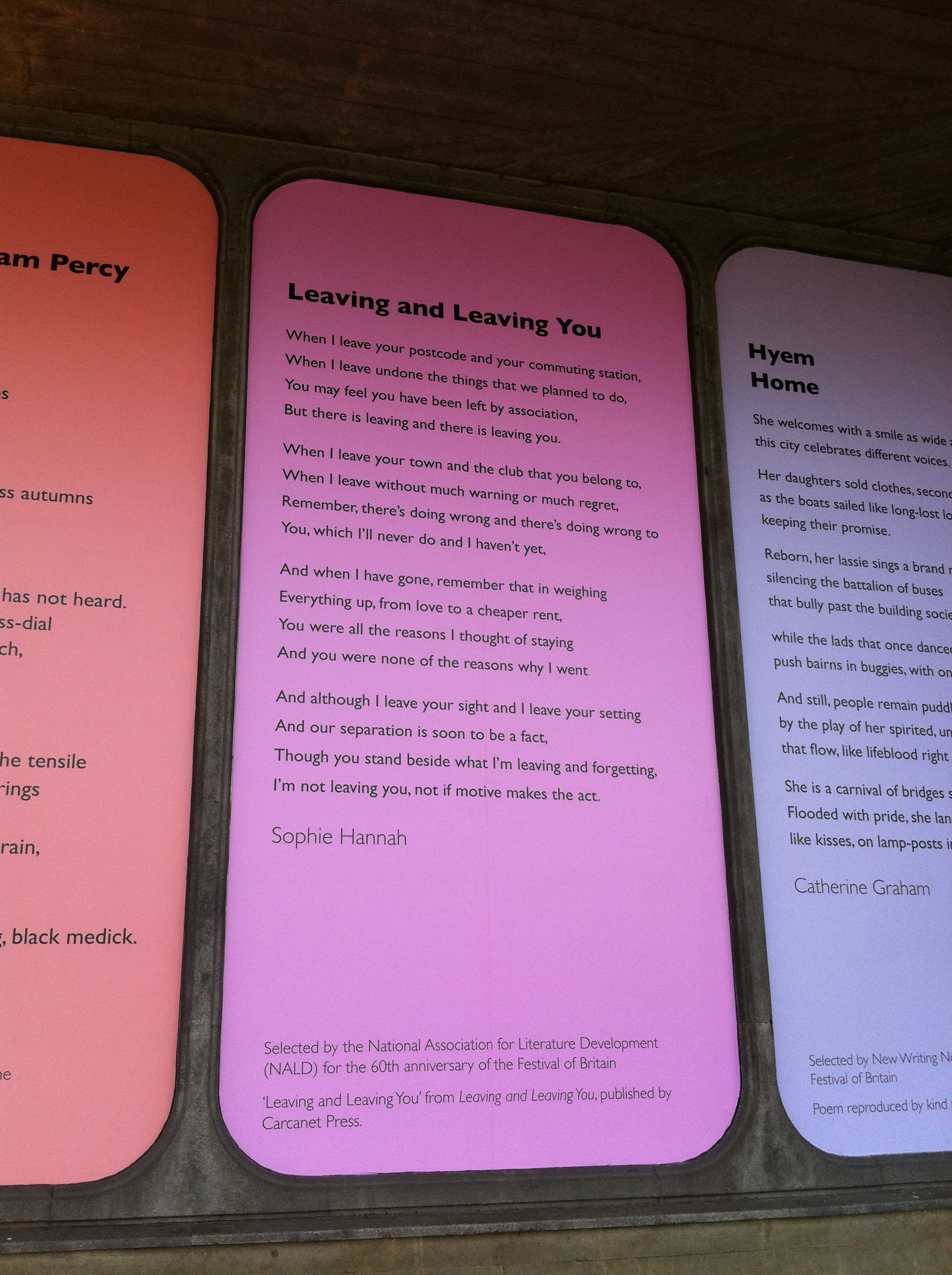 This was my favourite poem. It has something so true and sad and brave about it.
---
I got the bus home, worked a bit on my business plan, drafted this blog, went for dinner with my dad, high-tailed it up to Kings Cross to meet Nick and watch Caitlin Rose, had a mini-crisis about my own singing, and went home to bed.
Funny old life this.
In some truly excellent news though, look at my sprouts. They have well grown:
Please note that what looks like mould is in fact 'fibrous roots' - it says this on the 'bio-snacky' packets (providers of the seeds). Just to put your mind at rest. I know you worry about these things. x